Harmony Art Engineering Consultants is a leading design firms on a global scale. Located in the Emirate of Sharjah, nearby Dubai, within the heart of the desert from where we spread our design solutions all over the world. Founded in 2012, Harmony Art provides superior Commercial, Office, Residential and Healthcare design solutions. We partner with our clients to design smarter environments that are intelligent and influential. To this end, we incorporate our architecture and interior design disciplines seamlessly for a dynamic inside out, outside in approach to the built environment.
Architecture as it should be
Harmony Art Engineering Consultants goal is to engage, inspire, and enhance the human experience by creating designs that connect a building's purpose, function, and context to those who use it. The firm's emphasis on teamwork permeates all aspects of Harmony Art Engineering Consultants work, from client relations to design.
We persist in contributing the clients with excellent of service and the best value for their money. Looking ahead to be at the top of this competitive market.
Design Philosophy:
We combine imaginative design skills with a strong appreciation of commercial need. Client satisfaction is of paramount importance. Our main objective is to deliver a solution which more than satisfies the original brief and to deliver it on time and within budget. We continuously develop our professional skills to meet the changing needs of the industry sectors in which we work.
Our dynamic design team delivers innovative design solutions with effective and efficient project coordination. Our consistently high level of design achievement stems from our depth of experience in a diverse range of building types and our pursuit of highly trained and talented staff. We respond to the individual needs of our clients through the provision of effective solutions and excellent levels of service
Designing built environments takes time and resources. We want to ensure that our clients to understand the process every step of the way and are aware of every potential cost before the project commences. An informed decision-making process is a smooth process.  The following is a brief description of the design and construction process.
Programming & Schematic Design
Harmony Art
2018-07-30T07:38:21+00:00
Contract administration services will be outlined in the owner-architect agreement. Different agreements require different levels of services. The architect's main responsibility is to help the contractor build the project as drawn, and in that role, the architect will provide clarifications, architectural sketches or approve alterations from the drawings.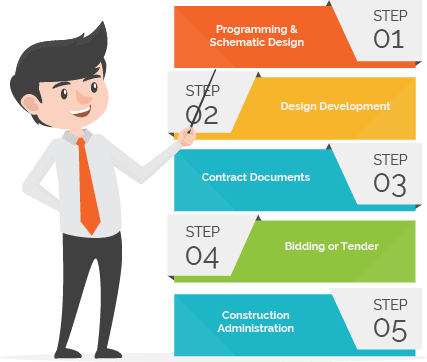 "As an architect you design for the present, with an awareness of the past, for a future which is essentially unknown."

– Norman Foster

Harmony Art have experience across each and every kind of projects. Our team is well versed in all aspects, across all phases of project delivery and are committed to delivering on time and on budget as well as setting new benchmarks in terms of innovation, design and quality.